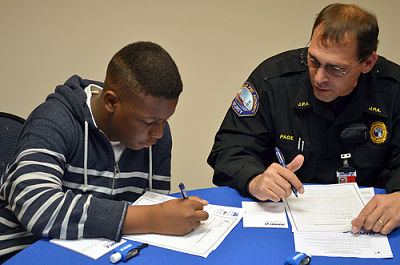 I read a quote by Michael Jordan, whom many believe is the greatest basketball player of all time, that really shed light on what it takes to win.
"I've missed more than 9000 shots in my career. I've lost almost 300 games. 26 times, I've been trusted to take the game winning shot and missed. I've failed over and over and over again in my life. And that is why I succeed."
Successful people learn to forge ahead in spite of failures. They don't allow negativity from their current situation to strip their self-esteem. They realize that the power to win resides deep within them, and they begin to use failure as a means to succeed.
They study what they did to cause the failure and what they would do again if faced with a similar situation. They understand they cannot go it alone, so they enlist assistance from others to help them succeed. They seek out trusted mentors, coaches or advisors to help them deal with the challenges of life. They reason that success is possible if they stay in the fight and do not give up.
The power of a mentor
The announcement that we were getting a new basketball coach came toward the end of my junior year of high school. I was excited and nervous at the same time. I knew our new coach because he taught at the school, coached our JV team my freshmen year and he coached the girls' basketball team the previous two years.
We already had a good relationship coming into that season. He had always encouraged me to work hard in the classroom and on the basketball court. He was not only concerned about my basketball skills, but he desired for me to win in life. I did not call him a mentor; I just called him Coach.
I was an extremely skinny young man. I was a little over six feet tall and weighed a whopping one-hundred and fifty pounds. I was called every skinny name under the sun: beanpole, bones, toothpick, and the list goes on.
The barrage of negative names about my size left me with a low self-esteem and confidence. I knew I could play, but I doubted that I could compete with the guys I would be playing against.
I knew every night we played that I would guard guys who were twenty to thirty pounds larger than me. I did not know if I could handle the pressure. I allowed every negative and self-defeating thought to enter my mind.
I heard things like, "You are too small to make an impact. Everyone will laugh at you and you will not produce." The thoughts became so overwhelming that I considered not playing. I nearly let self-doubt win. But instead of giving into my fears and doubts, I talked to Coach.
My turning point
I remember discussing my feelings with my coach as if it was yesterday. Instead of him cosigning with my fears and doubts, he challenged me. He told me that this was my senior year and I could have a great year, but I had to believe it and do it.
That meeting was a turning point for me that basketball season. Coach got in my face and challenged me to "man up," and not accept any excuses about why I could not get the job done. I worked hard during the off-season getting ready for the upcoming year.
Coach kept encouraging me to work hard at improving my basketball and life skills. Some of our conversations were tough, and some made me want to knock him out. But I kept coming back because I needed to hear what he had to say. His mentoring was more about life than basketball. It made me a stronger and more confident person.
I finished my senior basketball year well. I accomplished several of my individual goals, but the topper was that I got a chance to play in the state championship tournament. It has been twenty-seven years since coach mentored me, and I will never forget the encouragement he poured into my life.
Coach's mentoring showed me that you can't do life by yourself. You need someone to walk with you. You need someone in your corner to cheer you on or correct you when needed. I value mentoring and accountability so much that in every stage of my life, I have had mentors and accountability partners to help guide me through life's victories and defeats.
Don't believe the lie
I saw myself as incapable of producing positive results. I listened to my inner doubts and what I thought others would say. Not only did this struggle with low self-esteem affect what I thought was possible on the basketball court, it affected other areas of my life.
I discovered from this experience that if you allow fear and doubt to circulate in your mind, it will cause low self-esteem and a lack of confidence. I am glad that I had a coach who spoke life into me. He did not speak only about having confidence to play basketball, but also about having the confidence to achieve your dreams. The encouragement he gave me was bigger than winning in basketball. It was about winning in life.
He helped me realize that in order to build self-confidence and overcome low self-esteem, you must change how you see and feel about yourself. Changing your self-esteem requires changing how you view yourself. You must stop believing that you are not good enough.
Thoughts that you are not good enough will hold you hostage from achieving your desires. You will constantly downplay your gifts and abilities. You will allow the slightest discouragement to stop you. You will seek the elusive picture of perfection. You have the power to eradicate the thoughts that tell you that you are not good enough.
"If you cannot see where you are going, ask someone who has been there before." J Loren Norris
Question: How has a mentor played an important role in your life? Leave a comment below.