Are you ready to live the vision God designed for your life?
If you answered yes, then Vision Impact! is the right book for YOU. Vision Impact! is the "Ultimate Guide to help you develop and implement an effective vision plan" for your life and family.
Vision Impact contains:

Forty-two daily inspirational and motivational messages that takes 5 minutes to read.
Insig

hts to help you realize your purpose, define your values, see your future, set your goals and work your plan.

8 empowering keys to help you unlock the power of your vision!

Practical instruction and inspiration on how to live out your purpose with our 7 Positions of Purpose.

Our simple Goals Matter strategy will help you set and achieve your goals faster than you ever thought was possible.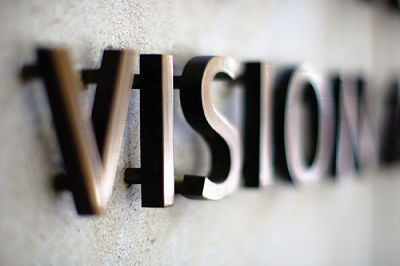 "The most pathetic person in the world is someone who has sight, but has no vision." Helen Keller
Now is the time for you to awaken the vision that lives inside of you by creating a written vision plan that will help you to see where you are going, what changes you need to make and if you are progressing towards your desired outcome.
You cannot afford to spend the next year, or the next five, ten or twenty years talking and thinking about what should've, could've or would've been. Purchase your copy of Vision Impact! today and change the direction of your life forever.
What others are saying about 'Vision Impact!':
"This powerful and insightful book will teach you the principles to living a significant life and allow you to move closer to your personal potential."
– Dan Black – blogs at www.danblackonleadership.com
"In order to know where you're going you have to see how to get there. What do you want to accomplish in your life? You won't accomplish any of it without vision. This book by Bernard Haynes lays out exactly how to get that vision for success and encourages you to take action. It's a very well written book that has clarified a lot of things in my own life."
-Kimanzi Constable – Author & Speaker, blogs at www.kconstable.com
"Vision Impact's practical and relevant information is an excellent resource to help individuals develop and implement a personal and family vision plan. The insight, instruction and inspiration within this book will empower you to make better choices and help you implement a solid plan to make your vision a reality."
-Dr. Tedra White – Career Development Strategist and Coach
"Vision Impact book inspired me to open my spirit to the revelation and understanding of God's vision for my life. The vision that is enabling me to see beyond the ordinary and by faith live an abundant life, a life of success with excellence. Be inspired as you read this book.  It will take you through a process that will impact your life." 
– Brendal Davis – Inspiralist / Coach / Founder of Spirit of Excellence Ministry, Inc.
"Bernard does a great job at motivating people to create, embrace and pursue their vision & purpose by way of life applicable illustrations in Vision Impact!. It is refreshing to see how Bernard uses his God-given gift to pour into the lives of others. You will never begin living life until you know what your purpose is. Bernard is one of God's messengers equipped to coach others to success by helping them give birth to their vision & purpose."
-Kenny Pugh – Life Coach, Author & Speaker – www.kennypugh.com
"This is one of the best books you'll ever read on vision and it's impact in a person's life! Bernard is clear and concise as he lays out the importance of vision – how to get vision, push through limitations and live a powerful vision-fueled life. He uses biblical and other life examples to bring the lessons and principles to life. You'll come away energized, encouraged, challenged and empowered to be all that God created you to be!"
– Ngina Otiende –  blogs at www.intentionaltoday.com