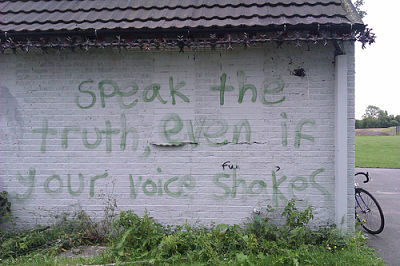 If a professional athlete wants to get to the next level in his sport, he hires a personal trainer to help him get there. If he doesn't have a trainer that will encourage, train, guide and give him a good kick in the butt when needed, he will never get to the next level. If you truly desire to go to a higher level in life, you need truth speakers in your corner.
My team
Surround yourself with individuals who speak truth to you is one the best ways to help you face and overcome the opposition and obstacles you will encounter. You can't do it alone. You can't walk this journey in isolation. You need truth speakers who will stand with you in good and bad times.
I thank God for the four men he placed in my life when I was a young man trying to understand life and what it took to be a Godly man. They spoke truth into my life the right way. They encouraged me with sound advice and powerful wisdom.
Sometimes what they said hurt and it even made me mad, but it was exactly what I needed to hear. I thank God for those four men he placed in my life.
Today, I have three men that I can call anytime when I am dealing with a tough life situation. I respect what they have to say even when it goes against what I desire to do. I would not take anything for the counsel these three men pour into my life.
Build your team
I admonish you if you don't have truth speakers in your life start building a team today. Find individuals who believe in you and desire to see you succeed. Be patient because truth speakers are not on every corner. They can be hard to find.
Don't build your team with people who will only tell you what you want to hear. Don't just put anyone on your team. Don't get people because they are popular or hold the right position. You need individuals you can trust who will get in your face when you need it and tell you the truth.
Truth speakers hold you accountable to living your vision the right way. They help you focus on achieving your vision even when things seem out of reach. What they say may go down bitter, but it will be the right medicine you need to live your truth.
Question: What truth speakers can you engage with that will help you live life better? If you have truth speakers in your corner, what can you do to show your appreciation? Leave a comment below.