"A genuine leader is not a searcher for consensus but a molder of consensus."  Martin Luther King, Jr.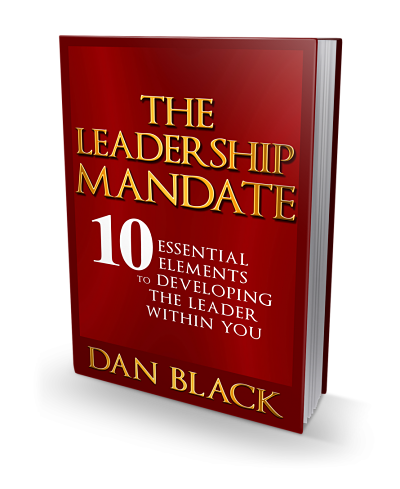 Leadership has little to do with a title or position and everything to do with influence. If you want to grow in your leadership position, Dan Black's new book 'The Leadership Mandate is an excellent tool to use. His practical insights and instruction will empower you to lead at maximum capacity.
It is a short book, but it packs a mean punch.I read Dan's blog weekly because he provides valuable and useful instruction for leaders in any position. If you want to enhance your leadership and lead the right way, 'The Leadership Mandate' should be a part of your library.
The Leadership Mandate reveals that you (yes, even you) are a leader because to some degree you have influence with those around you. Since you're a leader, I call you to start taking your influence seriously by developing the leader within you.You will learn about the 10 essential elements of influence, which include:
1. Self-Leadership: To influence people requires leading yourself successfully
2. Thinking: Move yourself above the competition by engaging in thinking
3. Relationship Skills: Relationships are the cornerstone to your life and influence
4. Lifelong Learner: Develop yourself to unlock your potential
5. Strength-Based: Concentrate on your strengths to produce maximum results
6. Communication Skills: Communication skills allow you to extend your reach and share your message
7. Passion: Have your passions the focal point of your life
8. Purpose: Be purpose driven by living out what you have been called to do
9. Personal Vision: Vision is the compass toward a bigger and better future
10. Producer: Producing results positions you toward success and achievementThis book provides practical and foundational principles that will equip you and move you toward your leadership potential.
You can purchase The Leadership Mandate on Amazon. 
What Others Are Saying:
"The Leadership Mandate will change you. It is full of great tips and action-steps, designed to help you grow as a person and to influence people around you. Dan's writing style is clear, applicable, and filled with sound wisdom.This book comes out of Dan's life: he lives what he writes. If you want to be a person of influence, pick up this book. You won't regret it!" ~Dave Arnold Author of Pilgrims of the Alley
"If you aspire to lead, to influence, to be a leader, then you need to read this. More than that, you will want to internalize the ideas shared. The world needs great leaders, not just in business and government, but in every area of our lives. The ideas Dan Black shares in this book will absolutely help to bring out the leadership qualities in people, which we all so desperately need to see more of." ~Josh Hinds Author of It's Your Life, LIVE BIG!
"Loved this book, especially it's emphasis on self-leadership. Dan lays it out – all of us are leaders: as long as you have influence, you are a leader. He goes on to explain how to grow as a person and leader." ~Ngina Otiende Author of Navigating Change