"The most pathetic person in the world is someone who has sight, but has no vision." Helen Keller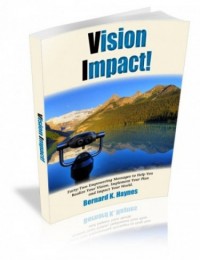 Are you ready to live your life at maximum capacity? Do you believe there is more to life than where you currently are? Are you ready to live the life God meant for you to live? If you answered yes to these questions then Vision Impact is the book for YOU.
Vision Impact! How to Realize Your Vision, Implement Your Plan and Impact Your World, contains forty-two short, easy to read inspiring messages that present practical insight, instruction and inspiration on how to develop and implement your personal and/or family vision plan.
If you are serious about moving forward in your vision, you can develop and begin to implement a vision plan within forty-two days (six weeks) that can take your life to a new dimension. [Read more…]