This is a contributor post by Floyd Samons; story teller, encourager and writer. You can connect with him on his blog and follow him on Twitterand Facebook.
Life's problems wouldn't be called "hurdles" if there wasn't a way to get over them.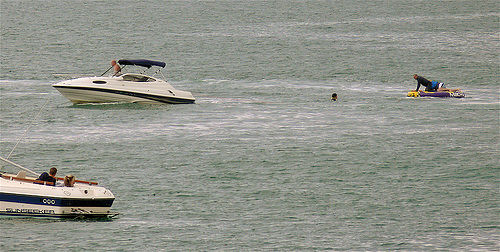 I've had visions, lots of them. I can picture things in my mind, almost feel them, taste them, live them as if they're already a reality. There have been many dreams that have become realities in my life, but some of those dreams were just masquerading, hiding the nightmare in disguise.
More often than not, the things we desire to own end up owning us. The proud and majestic life we seek to sail and steer like a grand ship ends up steering us as it gets tossed to and fro on the choppy seas of life. We end up fighting just to hang on for dear life in the vessel we hoped would define us.

That's what happens to folks who live a life with vision, but without God to put their faith in, or worse yet, know their Father, but sometimes think He needs a little help from us to get things rolling. That's always the beginning of a hard lesson learned sailing through the eye of the storm.
It's fast approaching ten years ago when I took matters into my own hands in order to make another dream and vision come true. I hitched myself to a team that served a different master. It's easy to justify our actions when we're blinded by things of the flesh.
The deal looked like a home run, but I believe the seas and the squalls that rise and fall are still controlled by the sovereign hand that landed Jonah on the beach.
The skies grew dark and a furious storm passed over my world and a lot of people's worlds. When the storm settled there were casualties, principle players gone, and left were a few survivors and the shark infested waters. To be honest, I didn't think I'd survive the shark infested waters of the new world.
It's not easy to live out our faith when our minds know the mathematical equations can't add up. We know from a purely physical study the odds are impossible sometimes, after all, our senses don't lie, do they?
They don't lie, but they're not what we're called to put our hope in. I think that's the problem with our world; we rely solely on our senses and dismiss the supernatural as "unexplained phenomenon", or we call it a miracle, but don't truly believe the Power behind it.
The funny thing about storms is they sort things out, shake things up, like shaking the chaff, if you will. If what we have defines who we are, the storms of life will destroy us. If Who we serve defines who we are, the storms make us wiser and point to the Source of our unexplained strength and deliverance.
I'm still here. The storm brought bruises and a few scars, but to still be surviving, and in some ways thriving, is purely the hand of our Father in my life.
When the world tells me I should fear, I've learned to revere my Father first. Nothing in our lives happens unless He either causes it or allows it, and nothing and no one on this earth can fathom the power of God.
Our enemies and sharks all sit in the palm of His hand right next to us and "He prepares a table before us in their presence."
No one is below us, and only He is above us…
"Whom shall I fear?"
Question: How can you live out your vision when things don't add up? Leave a comment below.
photo credit:"http://www.flickr.com/photos/gazzat/944022236/