"What lies behind us and what lies before us are tiny matters compared to what lies within us." Ralph Waldo Emerson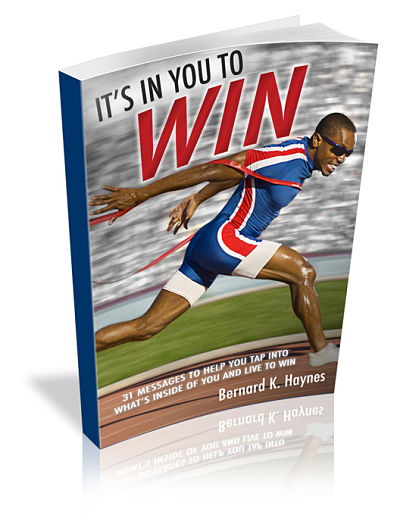 Do you believe you have everything within you to live a winning life? I am in the process of finishing my second book,  'It's In You To Win'. The book is set for an October 21, 2014 launch date.
The key to winning
You work forty-plus hours a week and you still cannot get ahead. You try to do the right things to take progressive steps forward, but it seems something always happens to stall your efforts or push you back five steps. At the end of the day, you are left disappointed, discouraged and depleted.
The key to a winning life is to not let past failures or today's negative circumstances define who you are and what you can do. I read an encouraging quote by Michael Jordan, whom many believe is the greatest basketball player of all time. His quote shed light on what it takes to win
"I've missed more than 9000 shots in my career. I've lost almost 300 games. 26 times, I've been trusted to take the game winning shot and missed. I've failed over and over and over again in my life. And that is why I succeed."
Successful people learn to forge ahead in spite of past failures or current turbulence. They realize that deep within them resides the power to win. They study what they did to cause the failure and what they would do again if faced with a similar situation. They use their current life turbulence to strengthen them and do not allow it to destroy them. They conclude that success is possible if they stay in the fight and do not give up.
About the book
It's In You to Win™ contains thirty–one easy-to-read daily messages that will encourage, equip and empower you to tap into what's inside of you and live to win. If you are serious about living a winning life, these thirty-one daily messages will help you take your life and those connected to you to another dimension.
You will be inspired and motivated to choose the thoughts and attitudes that attract success. Each message is like a daily energy drink to empower you to live life at maximum capacity. The book is structured around short but powerful messages: practical tips, keys and strategies for you to reflect on, think about and (most importantly) take action on.
Here are a few sample titles of the messages we will explore in, It's In You to Win™
Navigate your life differently – Are you tired of your today looking like your yesterday?
Courage in Crisis – Do you have the courage to stand when faced with overwhelming circumstances?
Stop crying over spilled milk – What past events in your life have caused you to lose focus?
9 motivators to breakthrough a familiar routine – Are you sick and tired of being sick and tired of where you are?
The assassination of procrastination – What dream did you forfeit pursuing because you kept waiting for tomorrow to do it?
Your Uniqueness is Your Advantage- What is it about you that makes you different from any other person in the world?
How to burst through the frustration – Are you frustrated with where you are in life?
You Have All You Need
God gave you everything you will ever need to live out your life's vision. He is not going to give you any more than you already possess. No amount of conferences, workshops, classes or seminars can give you your vision.
You can read a hundred more self-help books and still remain stuck and stagnant. The only way you will move toward success is by using what God instilled in you to live out your vision. You have everything at your disposal to enhance what is already in you.
God desires that you open your mind to the creative concepts, innovative ideas and tremendous thoughts He placed within you. You will be amazed at what you accomplish when you act on your gifts. Even those who discounted you or who thought you would never succeed will be amazed at your progress.
Don't worry if everything does not happen as fast as you want. Don't throw in the towel if you do not get support from the people you thought would support you. Don't think doing things differently won't work today because you failed yesterday.
It's up to you, whether you tap into what's inside of you and live to win or accept the status quo and live stagnant. The choice is yours.
*If you are interested in being a part of my launch team for this book, please drop me a note at bhaynes7@gmail.com. I will periodically update you on the progress of the book and asks your opinion on some aspects of the book.
Question: Do you believe you have everything within you to live a winning life? Why or Why not? Leave a comment below.