This is a contributor post by Dr. William Kratt. He is a missionary, sought after speaker, facilitator and consultant. You can connect with him on his blog and follow him on Twitter and Facebook.
"Storms make trees take deeper roots." Dolly Parton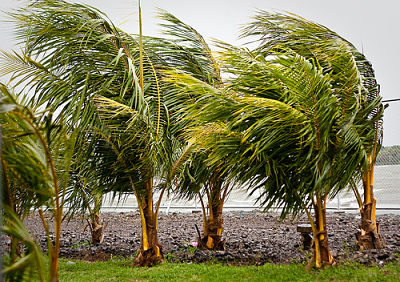 Storms are an inevitable part of life. A wise pastor once said, "One thing about storms…either you're in a storm…just coming out of a storm…or soon enough, you'll be heading into a storm." Job puts it this way, "Man that is born of a woman is of a few days and full of trouble" (Job 14.1).
In fact if you can honestly say to yourself you've never faced a severe storm in life that same preacher would tell you, "Just keep livin!"
The other day I found myself in a storm, and a verse in Psalms brought back memories of a message I preached at a church in Haiti. It says in Psalm 92:12a:
" The righteous shall flourish like a palm tree…"
I remember feeling deeply inadequate to minister to the people of Haiti just six months after the tragic earthquake hit the country's capital Port-au-Prince, but God reminded me of some lessons I had learned from Palm trees. They reflect several principles as we go through storms:
Persistence and Perseverance: Palm trees flourish in extremely hot climates. Simply stated, we need to learn how to take the heat when life gets difficult!
One time a prophet complained to God and said, "How long are you going to make me preach to people who don't listen to Your Word?" God responded with a question of His own in Jeremiah 12:15a:
"If you have run with footmen and they have tired you out, Then how can you compete with horses?"
God was basically saying, "If you're freaking out right now with these present challenges, how are you going to be able to handle the pressures of where I'm trying to take you?"
God uses storms sometimes to test our mettle, our strength in adversity, and we all know the saying, "If you can't take the heat…"
Isn't it amazing how many torrential rains, winds, and storms palm trees can handle? Where other trees would snap under the pressure, Palm Trees have deep root systems to handle various types of inclement weather.
How do we weather the storms of life? We must be deeply rooted in God's Word. When it comes to perseverance, God said in Joshua 1:7:
"Only be strong and very courageous, that you may observe to do according to all the law which Moses My servant commanded you; do not turn from it to the right hand or to the left, that you may prosper wherever you go."
Simply put, we find strength through storms when we know the Word and do not stray from its commands.
Passion and Pliability: In times of severe drought or dry seasons, Palm trees are able to tap into deep sources of water that exist deep within the ground. In those dry and difficult seasons, we must thirst for the living water to strengthen us through our storms. Psalm 63:1 says,
"You, God, are my God, earnestly I seek you; I thirst for you, my whole being longs for you, in a dry and parched land where there is no water."
Palm trees also bend under the pressures, but they don't break! It's a picture of learning to be flexible in storms. We must learn to trust God through difficulties, and be grateful for whatever season we are in.
Posturing and Prayer: The bending of a Palm tree also demonstrates what our posture should look like in storms. We should bow down in worship, honoring God for who He is through our storms.
A wise friend of mine once said, "The problem when facing storms, is we tend to gaze at our circumstances and glance at our God, when we should gaze at our God and glance at our circumstances!" Worship causes us to focus less on the problem and more on our Problem solver.
Like a Palm tree that bends to the point where its leaves touch the ground, storms in our lives ought to bring us to our knees in prayer!
Even the powerful ruler King Hezekiah in 2 Kings 20 had enough sense to turn his face to the wall and cry out to God. When his back was against the wall, he didn't rely on his power, prestige or possessions, but on God to provide at his most desperate point of need.
Preparation and Promotion: Did you know that Palm trees actually benefit from storms? As a result of being beaten down by hurricanes, monsoons, or other types of storms their trunks grow stronger and they grow taller and more beautiful.
We may not like storms, but we must learn to embrace them! One of the primary ways God develops our character and purifies our motives is through pain. Not only that, but consider this fact about Palm trees. If the root system and trunk didn't face storms, it wouldn't be able to stay standing as it grew taller.
What's the principle? Rather always wanting that quick promotion, we ought to pray "God, please don't promote me to where your grace can't keep me!" Let's not get ahead of ourselves and get a promotion that we can handle and that causes God's reputation to be tarnished by a fall.
Productivity and Prosperity: Palm trees are able to produce fruit in different seasons and weather conditions. We must be fruitful even when we face storms.
Sometimes we will be called upon to help others even while we're going through! God sustains and strengthens us in these times, and even provides us with His comfort as we comfort others.
With all of these amazing characteristics about Palm trees, it's no wonder that Palm branches were used to symbolize victory (prosperity) in the Bible! For example, when an army would return home from a battle, Palm branches would be waived to celebrate the victory.
But a far greater symbolic waiving of palm branches occurred when Jesus made his triumphal entry into Jerusalem. Not fully aware of the symbolic significance of what they were doing, the people were waiving Palm branches in advance of Jesus' victory over death, sin, and the enemy when He died on the cross and rose from the grave!
Palm branches ought to remind us that as long as we have Christ we already have the victory! Paul reminds us in Romans 8:37b:
"We are more than conquerors through him who loved us."
Next time you see a Palm tree learn to appreciate the season you are in, even if it's a stormy one! God is using that storm for your good and the benefit of others, all for His glory! Stay encouraged.
Question: How can the example of the Palm tree help you deal with your storm? Leave a comment below.
photo credit: http://www.flickr.com/photos/gomattolson/3821578426/