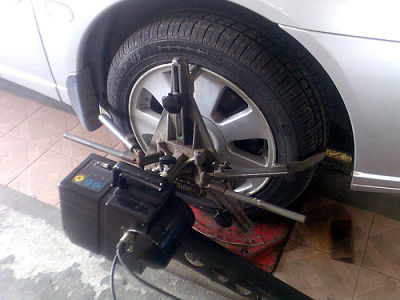 Is your vision in proper alignment to where you desire to go? Do you have a vision that covers every area of your life (spiritual, relational, physical, social, mental, financial and professional)? If you answered no to these questions, you have some work to do.
My Realization
A few years ago, my life was like a vehicle out of alignment, it was veering all over the place except where I desired it to go.
The underlying problem was that I was trying to do too many things. I had no clear vision of where I was going. I was experimenting with an array of different things that left my life in chaos. I would get started on one thing and half way through completion I would change directions.
I would hear or read about some expert's five step formula to success and immediately hop on the bandwagon. I would incorporate the expert's five steps in my daily life without much success. I found myself repeating this scenario too many times.
My life was crazy. I was going in too many directions and not accomplishing much. I was on a continual life loop going nowhere.
I knew I had to do something, but I didn't know what. The frustration and discouragement of not living the life I envisioned was disappointing.
I realized that I needed a life mechanic. Just like if your car is out of alignment, you take it to a mechanic for him to make the proper adjustments to get your car back in alignment.
The life mechanic I sought was not a life coach, counselor, mentor or adviser. These are all good in their place, but I decided to seek God, the designer of my life get my vision in proper alignment. I had gotten tired of always veering in the opposite direction of where I needed to be.
I remember as if it was yesterday, one evening after my family had gone to bed I went to my study room in the basement to ask God some serious questions about my life's direction. As I began to ask Him the most pressing questions on my heart, He led me to read the book of Habakkuk.
After reading the three chapters in Habakkuk several times, it hit me like a ton of bricks, I needed to realize, write and implement God's vision for my life, marriage and family in order to get  my life in alignment.
That night, I made a commitment to write a vision that would encompass my whole life. Over the next few of weeks, I sought God's face, devoured His Word and read other individuals stories on how they lived out their vision.
After spending this necessary time asking and seeking direction, God revealed His vision for my life. I wrote my vision in explicit details, posted it in my home as a reminder and immediately started implementing it.
The benefits of an alignment
Just like a bad alignment can lead to serious problems with a vehicle, a bad vision alignment can lead to serious life problems. It can lead you to chase things outside of your vision. It can leave you frustrated and fatigued because your life constantly veers in the opposite direction of where you want to go.
Until you admit that your vision is out of alignment and you need help, your life will stay off course. The only solution to a car and vision alignment is to visit someone qualified to help you get your vehicle and life back on track.
If you want your car in proper alignment, you need to visit a certified mechanic. If you want your vision in right alignment, you need to spend time with the God of the universe. Don't wait for someone to give you permission. Don't wait for the perfect moment or the right situation before you take the necessary steps to get your life aligned to God's vision.
If you want your car to drive smooth, a proper alignment is necessary. If you want to live your vision with power, it must be alignment with God's vision.
Here are three reasons it's important to stop driving a car and living life out of alignment.
A vehicle alignment aids tire rotation and balance. Even though you may take care to rotate tires every six or seven thousand miles, if the car is out of alignment, they can still wear wrong and get shredded in a relatively short time.
A vision alignment helps balance your life. A person without a proper vision alignment will bounce from one thing to another, never realizing their full potential. A vision that is aligned with your purpose and values will block out the distractions and diversions that interfere with you living a balanced life.
A vehicle alignment improves handling. A car with a proper wheel alignment is easier to drive. When dealing with road obstacles such as potholes, you are better able to handle the road.
A vision alignment improves how you handle your life. When you have a clear vision that directs your life, you are better equipped to handle the obstacles and opposition. Trust me, obstacles and opposition will show up when you least expect them. But, when life throws you a curveball, a clear vision empowers you to navigate through any turbulence with a sense of peace and hope.
A vehicle alignment reduces wear on steering column. Bad alignment causes wear on a lot of car parts, not just the tires. A vehicle out of alignment can shake parts and cause even more damage not seen by the physical eye.
A vision alignment reduces burn out. When your vision is aligned with who God created you to be, you will not burn yourself out trying to be someone else. You delay living your best life when you resolve to imitate someone else's vision. Just be you and avoid the unnecessary wear and tear on your life.
Don't throw in the towel if things don't go as planned. Don't panic if your life veers off course. Stop. Take inventory of where you are. Seek God for help. Listen to His voice. Align your thoughts and actions to His directions and watch your life's vision expand and explode.
"The world makes way for the man who knows where he is going." Ralph Waldo Emerson
Question: Are there some areas in your life, you need to get in alignment with God's vision? What do you need to do to make it happen? Leave a comment below.
http://www.flickr.com/photos/khooms/1516653776/