"And he arose, and rebuked the wind, and said unto the sea, Peace, be still. And the wind ceased, and there was a great calm." Mark 4:39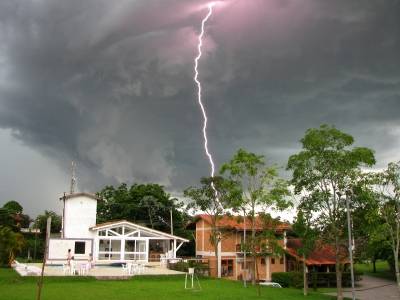 Is there a storm in your life that you are facing and you have no clue how you are going to survive?
I remember when I was about ten asking my mother why were people in the church talking about overcoming storms. I wanted to know exactly what they meant. Why would they talk about a storm when there was not a cloud in the sky and the weather man had forecasted excellent weather for the next seven days? I was dumbfounded.
She explained to me that they were not talking about a storm that is caused by the dynamics of weather. They were not talking about a hurricane, thunderstorm or tornado. She said the storm they were talking about was caused by the difficulties of life. These difficulties could be so intense that it felt as if you were getting hit by a physical storm.
After my mother's brief explanation, I remember saying to her, "I haven't experienced that kind of storm." She looked at me with a smile on her face and said, "live a while."
I didn't totally comprehend everything she was explaining about the storm that day. But, after living a few years I know what it means to face a storm. I have faced several storms that nearly took me out. I have endured through some tough situations that made me want to pack my bags and walk away from everything.
You cannot avoid the storms of life no matter how much you think you are prepared. They will come in some form or another. You are not void of storms because of who you are, your family name, bank account, position, possessions or experience. Storms are a part of life and you might as well deal with it.

I gained great insight from Mark 4: 35-41 on how to deal with a storm. This scriptural text gives the account of Jesus calming a raging storm that the disciples thought was going to take them out. After reading this account, I was able to extrapolate four keys that will help you face your storms with the assurance of victory.

1.  Sleep on it. While the storm was raging, Jesus was sound asleep in the stern of the boat. He was getting such great sleep even the raging storm couldn't wake him. He was knocked out. I am not indicating that you can avoid your storms by sleeping through them.
Jesus knew the situation, but He wanted to see how the disciples would respond. When I say sleep on it, I mean approach your storm with a calm mind, seek God in prayer, open your ears to listen and immediately obey His directions.
2.  Speak to it. Jesus did not run and hide from the storm, He spoke to it. He told the storm, "Peace be still" and the storm ceased. If you have a personal relationship with Jesus, you have the authority to speak to your storm with confidence of victory.

Stop right where you are and speak to your storm. I don't mean that when you speak, your storm will immediately cease. You may have to endure through more severe rain, louder thunder, intense lightning and fiercer wind. But, if you keep speaking to your storm according to His Word, believe what you speak and act in faith then victory over your storm is possible.
3.  Surrender control of it. The disciples knew they were out of their league dealing with this raging storm. They knew if they did not get help the storm would take them out. They went and got Jesus, the storm killer.
If you are dealing with a storm that seems unconquerable, you will need someone bigger and more powerful than you. Who else is better to surrender your storm to than the God of the universe. He will provide everything you need for victory.
4.  Survive through it. Through fear and doubt the disciples survived through the storm because they knew who to call on. You can survive through your storms if you trust the One who can work in and through you. God will empower you to survive through your storm with such grace that when you come out you will look as if you had never been through a storm.
Get ready to face your storms with the expectancy that you are going to make it through, but until you do know that you are covered and protected.
Question: How can you face your storms with the assurance of eventual victory? Leave a comment below.
Image courtesy: freedigitalphotos.net