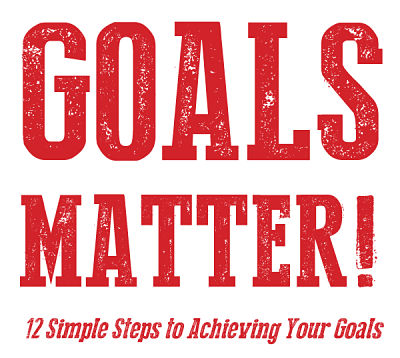 What is it that you desire to do, but think you can't? How can you hit a target you can't see or don't have? You must make targets in your life. The problem in life is not the lack of time, but the lack of focus.
Presentation Summary
Goals Matter! presentation is designed to help you set and implement specific goals that will give your life clear direction. Clearly defined goals help you determine priorities, get organized, make better decisions and move your vision into action.
Goals Matter! centers around our unique twelve simple steps to achieving your goals. Implementing these twelve simple steps is a continuous process and a tremendous learning experience, but with a committed plan, courage to move and consistent action you can accomplish your desired goals.
12 Simple Steps to achieving your goals
Spend time alone developing your goals. 

Define your goals in writing.

Create measures to success.

Define possible opportunities for success.

Identify barriers to success.

Break down goals into manageable action steps.  

Identify resources, skills and/or people needed.

Create new habits.

Take action.

Monitor your goals regularly.

Reward yourself.

Keep moving forward.
Target Audience
Goals Matter! EmPowershop™ is ideal for colleges/universities, ministries, high schools,businesses and organizations who desire to equip and empower individuals to develop and implement an achievable goals plan.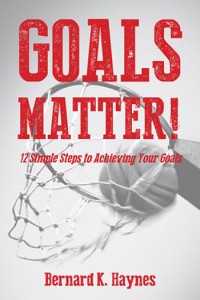 Possible Formats
This presentation can be delivered as a workshop, ranging from 1 to 2 hours long, depending on your needs. The ideal length is 2 hours.
Intended Outcomes
EmPowershop™ attendees will be convinced that setting goals is not only necessary, but a major part in living out their vision.
EmPowershop™ attendees will have a framework that will enable them to strategically develop and implement an achievable goals plan.
EmPowershop™ attendees will leave with practical, actionable steps they can implement immediately.
If you are looking to close the gap and achieve the extraordinary from a unique and innovative approach, contact Lead to Impact at bhaynes@leadtoimpact.com and reserve our Goals Matter!  EmPowershop™ Today!
  On Your Mark! Get Ready! Set Your Goals!  Live Your Dreams!
 What are others saying about Goals Matter?
"Mr. Haynes (Lead to Impact) provided a quality presentation for our students on establishing and implementing a plan to achieve their goals. The goal setting workshop was a valuable asset in our AFL Summer Leadership camp.  Excellent job!"
Taralyn Keese – Mentor Manager & Adolescent Family Life Grant
"The workshop on setting and implementing goals facilitated by Mr. Haynes really helped me set a meaningful goal. During the workshop I set a goal to improve my Math grade to an "A" for the up coming year. Using his Goals Matter! Program I was able to set a solid plan to achieve my goal. This was an excellent workshop."
8th Grade Student – Goals Matter! Workshop
"Mr. Haynes workshop on Goals Matter! was awesome and I am definitely going to follow through with it."
9th Grade Student – Goals Matter! Workshop
"Goal setting is an excellent tool that has given me great motivation in accomplishing my dreams. Over the past four years, I have seen several goals personally accomplished because I implemented a written goals plan. I believe Mr. Haynes' Goals Matter! Presentation is an excellent resource to help our young people develop a plan to achieve their dreams."
Mark Merchant – Turner Middle School, Administrative Assistant/Football & Track Coach
"Mr. Haynes did an outstanding job with our students helping them to see the importance of setting and achieving goals. His presentation was clear and focused and allowed students to establish a plan of action to reach a chosen goal."
Denise Fountain
"Mr. Haynes was certainly a blessing to our middle – high school students. I have been working with youth for decades and to say they are a 'tough crowd' to hold their attention would be an understatement. Mr. Haynes masterfully delivered his message of leadership & responsibility, which I personally think 'took hold' in the majority of our students.
ED Payne – Church Administrator -Grace Baptist Christian School