"And Samuel said to Jesse, "Are these all the children?" And he said, "There remains yet the youngest, and behold, he is tending the sheep…" I Samuel 16:11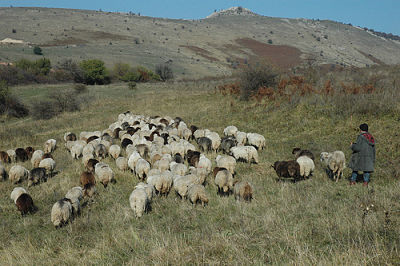 Shepherding was not a glamorous or high echelon occupation. At the time of David, shepherding was left up to the youngest in the family or slaves.
It was a low position that entailed hard and mundane work. But, David was a committed shepherd that took his job serious.
David's responsibility
David took his job so serious that after he was anointed to be the next king of Israel, instead of quitting his day job and positioning himself to take the throne; he went back to keeping his father's sheep.
So Saul sent messengers to Jesse and said, "Send me your son David who is with the flock." I Samuel 16:19
David did not let his future promotion distract him from his present responsibility of taking care of his father's sheep. He knew from his personal relationship with God that He had a set time when his purpose would come to fruition. But, until that time, he waited patiently while keeping sheep.
Shepherding was menial, unpleasant and lonely work. It was such a low level position that when Samuel came to anoint the next King from Jesse's sons, Jesse neglected to bring David to the ceremony.
Samuel anointed Jesse's sons who he thought would be the next king, but God had other plans. He told Samuel that He looks at the heart and not a person's appearance or stature.
But the Lord said to Samuel, "Do not look at his appearance or at the height of his stature, because I have rejected him; for God sees not as man sees, for man looks at the outward appearance, but the Lord looks at the heart." I Samuel 16:7
It is not where you start
Never think because you are in a low level position or you are doing what others think is menial work that God cannot advance you. He is looking at how you handle your current responsibilities. He is watching your character. He is observing your commitments.
I must admit, I have wanted the promotion without the work. I have craved the trophy without the trials. I have desired the smooth paved road and not the bumpy, dirt road to success.
But that was not the case. God wanted to see how I would handle the low level job before He promoted me to General Manager.
He wanted to see how I would take care of the starter home before He blessed me with a larger home. He watched to see if I would be faithful with my eight dollar an hour job before He increased my salary.
Just as God was seeing how I would handle the small things, He is checking out how you will conduct yourself with the few things.
The frustration of keeping sheep
I know it can be frustrating and tiresome keeping sheep. You think you deserve better. You know you should be farther along than you are. You are tired of seeing others receive promotions and advancements while you remain the same.
Keeping sheep stinks. They are stubborn and rebellious. It's a boring and monotonous job. There are a million better things to do.
You want to do something different. You are sick and tired of where you are. You are frustrated and tired of waiting for a breakthrough that never seems to come. Life has to be better than this.
I know from personal experiences it is hard keeping sheep especially when you know there is more in you. I can offer you this piece of advice while you maybe in the midst of keeping sheep, start making preparations for your vision.
If you need further instruction, take some classes and read some books. If you need different connections, build new relationships. If you need a new life direction, draft your vision plan. Whatever actions you need to take to get in position to go to the next level, do it.
Please do not take keeping sheep lightly. God can take your experience with the sheep; encourage, equip and empower you for victory over a significant challenge.
Keep your sheep
While you are keeping your sheep do not let anyone or anything detour you. People who don't understand God's direction for your life will try to discourage you by continually bringing up your past sins and mistakes. Don't let the discouragement and ridicule divert your progress.
God has not forgotten you. The events that are happening in your life are not designed to destroy you. I know it may not look like it, but God is navigating the events in your life to prepare you for a greater purpose and pursuit
While David kept his father's sheep he became a man so close to God that God said of David, "The Lord has sought out for Himself a man after His own heart, and the Lord has appointed him as ruler over His people…" (I Samuel 13:14)
In the midst of keeping sheep, God was preparing David to be the next king over His kingdom. God knew exactly what He was going to do with an ordinary shepherd. Just as He knew how He was going to use David, He knows exactly what He wants to do in and through your life.
He wants to know if He can trust you with the sheep before He promotes you to your promise. Whatever your sheep may be, take care of them as if you were taken care of stallions.
Don't blow it trying to make things happen your way and in your time. Don't rush your sheep keeping process. Take this valuable training time to develop and grow.
Your process may be totally different than my process. Your process may make me walk away from the promise or the process I grow through may frustrate you to quit. Your process may take a couple of months or a couple of years, but my process may take five or ten years.
Whatever your process may be, you cannot focus on the process of someone else. You have to remain focused on keeping your sheep. It may seem that it is taking to long for things to happen. You may think that you are not going to make it.
If you keep your sheep faithfully in spite of what your situation looks like or what others are saying, God will promote you in ways that will leave you and others shocked and amazed.
Question: How have you grown through a sheep keeping process?Leave a comment below
Photo credit: http://www.flickr.com/photos/vlahi_volunteer/3114864963/