This is a contributor post by TC Avey. TC is a Christian devoted to God, family and friends. She blogs at Wisdom of a Fool. You can also follow her on Twitter and GoodReads. Her book, The Precipice: When Everything We Know Ends, is available for purchase on Amazon by clicking here.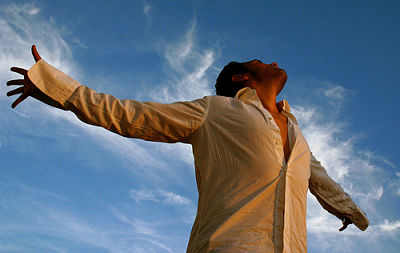 "How many are your works, Lord! In wisdom you made them all; the earth is full of your creatures." Psalm 104:24

I used to think I was pretty creative.
But the more I learn about God, the more I realize how false that is.
He is creative! Not me.
My wildest imagination doesn't compare to His vast ingenuity.
In fact, I'm beginning to grasp how my limited creativity, paired with my false sense of grandeur, impairs my ability to follow God.
I tend to put Him in a box.
I think He can only work in one way. Only answer prayers according to my ability to postulate the means of them being answered.
In this way, I limit God.
I don't mean to.
But I do.
I also limit my faith by not being open to how He wants things done.
The greatest example of this can be seen in my career choices.
I've always loved writing; I even believed it was a God given talent.
But I couldn't fathom Him actually USING it (i.e. me being a published author).
I thought it was an outlet for me to pour out my emotions, my heart—sort of like a psalm. That my writings were prayers and thoughts, ways I communicated with God.
I couldn't see God using my musing to help others in similar situations.
So instead of pursuing an education that would hone my writing skills, I chose a degree in Criminal Justice. Next I decided to become a nurse (have you ever seen chart documentation- not really suited for a creative writer).
When God put a halt to all my academic endeavors, I was left with only one venue to let my over active mind seek stimulation—writing a blog.
Hesitantly, I began to share my writing.
I was blown away when people followed me. Even more stunned to realize God was speaking THROUGH me to others. This was not what I thought my writing gift was for! This was bigger…way bigger, and way better.
Suddenly a light bulb switched on—God wanted me to write all along! He wanted me to share what I wrote with others, not keep it for myself. (DUH)
How could I not have realized this from the start?
It wasn't just my arrogance in thinking I knew what was best, it wasn't even my inability to trust God with the gifts He gave me, it was also the world I had to combat.
You see, from an early age I bought into the lie that in order for me to "be somebody" I had to have credentials, I had to "make my mark" in the world. And I had to do it better than anyone else—male or female.
I truly believed God gave me a brain so I could be used in some grander capacity than being a stay-at-home mom who blogs and has a self published book.
If you would have told me ten years ago this would be my life, I wouldn't have laughed at you—I would have cried. I would have thought I was a failure, that my life lacked meaning, and that I hadn't lived up to my God-given potential.
I would have thought these things because I put God (and His plans for me) in a box I had conjured from my limited mental capacity to dream.
I'm so glad God knows best. Skillfully, He took all my years of misguided beliefs and brought them together for His glory. He used all my years of wondering in the world to shape me into the person I am today.
I won't call my past career endeavors a waste or a mistake—that would short change God again.
He can take anything and make it useable and beautiful.
He's that creative!
I'm so glad I'm learning who He is. It's stretching not only my imagination, but also my faith. This combination makes it possible for me to say, "With God, the sky isn't the limit—it's the beginning" (Please tweet).
Question: How has a lack of imagination hindered you from following God's vision for your life? Leave a comment below.
photo credit:"http://www.flickr.com/photos/toniblay/59415205/