"Many people flounder about in life because they do not have a purpose, an objective toward which to work." George Halas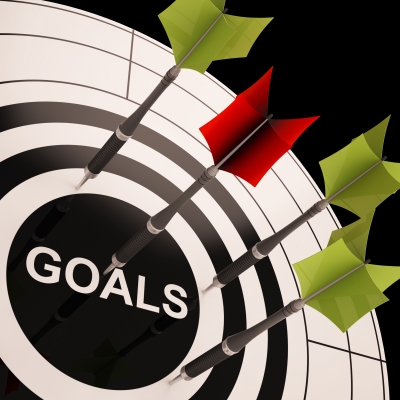 If you knew with absolutely no doubt that you could not fail in accomplishing your choice of one major goal, what goal would you set for your life?
We are a little over a quarter into a New Year and people all over the world have abandoned their New Year's resolutions. Some made a list of things they wanted to change in their lives or habits they didn't want to repeat from the previous year, but after only a couple of weeks they reverted back to things as usual.
They quickly discovered that goal achievement is more than saying or writing what you desire. It takes commitment, concentration and consistency to achieve a goal.

Years Past
In years past I was of the millions of people who created a list of New Year's resolutions. I was armed and ready to achieve great things, but by the end of January I usually fizzled out. I created an impressive list of things to do, but I had no real intentions on getting anything done.
It was not until I decided to approach setting New Year's resolutions differently. I began an intense research on a better way to set and achieve your goals. I read books, blogs and articles on goal setting. Some of the authors praised goal setting and others downgraded the entire process. I read stories of people who accomplished great goals and people who failed miserably in pursuing their goals.  
God's Plan for Goal Setting
There were so many different opinions on goal setting that it left my head spinning. I knew I needed to do something because I was tired of the frustration and disappointment year after year of setting goals, but not achieving many of them. There had to be a better way. I decided to stop seeking man's opinion and seek God's approach for goal setting.
During my search, God directed me to several passages of scripture that revealed His plans for goal setting. One particular passage that really encouraged my heart was Philippians 3. In this chapter, Paul spoke plainly about his goals.
"But whatever things were gain to me, those things I have counted as loss for the sake of Christ More than that, I count all things to be loss in view of the surpassing value of knowing Christ Jesus my Lord,for whom I have suffered the loss of all things, and count them but rubbish so that I may gain Christ, and may be found in Him, not having a righteousness of my own derived from the Law, but that which is through faith in Christ, the righteousness which comes from God on the basis of faith, that I may know Him and the power of His resurrection and the fellowship of His sufferings, being conformed to His death; in order that I may attain to the resurrection from the dead."  Philippians 3:7-11
Paul did not waste time and energy trying to please man. He did not let anything or anyone stop him from pursuing his goals.
Just as a professional athlete who desires to be the best at his craft will push himself to train, exercise and eat right during the offseason to prepare his mind and body to reach his goals for the upcoming season. Paul desired for everything within him to be stretched and honed to accomplish his desired goals.
"I press on toward the goal for the prize of the upward call of God in Christ Jesus."  Phil. 3:14
Set Your Goals
There are many different opinions about goal setting that it can be confusing. Some experts say set goals. Others say don't. The terminology is even different. Some say set a one word theme for the year, develop a task list or establish a priority schedule. After reading what God says in His Word, it is safe to say that He desires you to set goals that are in alignment with His vision for your life.
If you have a one word theme then set your goals in accordance with that theme. If you develop a task list or priority schedule make sure they are connected to your purpose. If you do an old fashion goals sheet make sure the goals agree with your life's vision.
I am so intrigued with the goal setting and achieving process that I designed a simple goals planning sheet that will help you with goal setting. You may agree or disagree with my assessment, but that is okay. I realize that when I set goals according to God's vision for my life, my focus is sharper, creativity is enhanced, purpose is energized and life is less stressful.
Question: What one specific goal do you desire to achieve before the end of the year? Leave a comment below.