Vision Impact Coaching
"The most pathetic person in the world is someone who has sight, but has no vision"  Helen Keller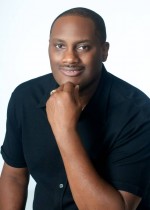 *Number One Result* If you are ready to live out your vision in full effect, I can help you make it happen. When you hire me, I will work with you to put together a plan to position you for vision success. If YOU implement your vision plan, YOU will begin to see positive results that will blow your mind within six weeks.
If you're curious or want to know more, email me at bhaynes7@gmail.com to set up a free 30-minute consultation. I know how important your time is so I won't waste it. You WILL leave with knowledge you can use immediately.

For five years, I facilitated a six-course new member's class at the church I attend. I enjoyed facilitating each class, but there were two classes that really captivated me: class #2 on purpose and class #5 on vision.
Each time I taught about purpose and vision, people came to me asking more questions. I also got emails and texts from people seeking more insight and instruction about vision.
People from a variety of educational levels, work experiences, income levels and family backgrounds wanted to know how to realize and live out their vision. I became a vision coach to many people.
Studying and preparing to facilitate those two courses impacted my life in such a way that I realized I needed a vision for every area of my life.
My personal and family vision story
I was sitting at my desk at work wondering where my life was headed. I asked God, why things were going the way they were going. "Why is my life on a continuous roller coaster?" To be honest, I was having a good old-fashioned pity party because I thought no one had it as bad as I did.
After several minutes of asking more why questions, I heard God speak to my heart in a still small voice. He simply said, "You need a vision for every area of your life."
Over the next several weeks, I spent quality time praying and meditating on the vision God desired for my life. I read and studied my Bible, read books and blogs on personal vision and listened to others' stories about how they realized and lived out their vision.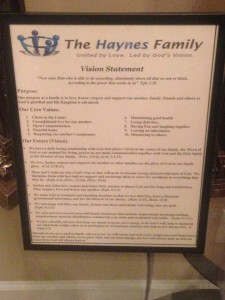 One evening, I sat down with pen and paper and wrote a clear vision in explicit details for my life, marriage and family. My vision focuses on the major areas of my life (spiritual, relational, physical, mental, social, financial & professional).
I now have a written a vision for my personal life that I review often, and a marriage vision that my wife and I review. We also sat down together and created a family vision statement that acts as our guide to where we desire to go.
We are so intent on living out our vision that we posted a framed copy of it in a prominent place in our living room. So if you come to our house you will see, 'The Haynes Family Vision.'
I am not promising a magical formula or an easy five-step plan to extraordinary vision success. It is going to take commitment, consistency and courage to live out your vision. But, if you are serious about living out your vision, then Vision Impact Coaching is exactly what YOU need.
If you are looking to close the gap and achieve the extraordinary from a unique and innovative approach, contact Lead to Impact at 404-423-6788 or bhaynes@leadtoimpact.com to discuss a coaching program that will work for you to get the results you desire.
Here's what others have to say about Vision Impact Coaching:
"You helped me discover that my vision is based on what God's purpose is for me. You have encouraged me that even though my current situation may not match what I envision for my life, I must have faith that if I continue to move forward I will fulfill His Purpose. I have learned so much through our conversations. You helped ignite the fire that was already in me. It is still my battle to win and I can see the end result. I know I can make it through the journey to live my God designed vision. I would highly recommend Bernard as a Vision Impact Coach. Thank You."
Tonnjo Rayford
"Bernard does a great job at motivating people to create, embrace and pursue their vision & purpose by way of life applicable illustrations. It is refreshing to see how Bernard uses his God-given gift to pour into the lives of others. You will never begin living life until you know what your purpose is. Bernard is one of God's messengers equipped to coach others to success by helping them give birth to their vision & purpose."
Kenny Pugh
Life & Relationship Strategist
Bernard is very knowledgeable on the topic of Vision! He has a passion for the topic and seeing others move forward in their visions from God. I became aware of this passion through some time I had with him a year ago where he expressed a sincere desire to see me overcome fear and other obstacles that have stood in my way. This was a critical point in my journey and Bernard helped to speak forth life. I am ever so grateful for him and his Vision Impact Coaching.
Jacole Todd
100% Money Back Guarantee If You're Not 100% Satisfied!