Meet Bernard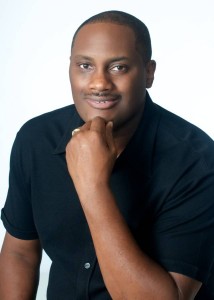 Hi, my name is Bernard, and leadtoimpact.com is my blog. I specialize in inspiring, coaching and training individuals with vision discovery, leadership development, spiritual renewal, life purpose and team empowerment. Thanks for visiting!  Read on to learn how my blog can help you realize and live out your vision.
Why I launched this blog 
I launched this blog in early 2012 to help bring out the color within people lives by encouraging, equipping and empowering them to realize and live out their God-designed vision so they can have a greater impact in their life, marriage, family and work.
Lead to Impact is rapidly growing into a vibrant and engaged community of individuals looking to live out their vision in the seven areas of life (spiritual, relational, physical, mental, social, financial and professional) and positively impact the lives of everyone connected to them 
My Vision Story
Several years ago, my life and way of thinking was changed by the power of realizing my personal, marriage and family vision.
I was sitting at my desk while at work wondering what was the deal with my life. I began to ask God, "Why were things going the way they were going". "Why was my life on a continuous roller coaster." To be honest, I was having a good old fashion pity party because I thought no one had it as bad as me.
After several minutes of asking more why questions, I heard God speak to my heart in a still small voice. He simply said, "You need a vision for every area of your life." I was shocked. I thought I was fine in this area because I had experienced some vision success in business, finances and family, but little did I know that there was a bigger vision God desired for me.
Over the next several weeks, I spent quality time praying and meditating on the vision God desired for my life. I read and studied my Bible, read books and blogs on personal vision and listened to others story about how they realized and lived out their vision. This intense search encouraged and energized me to become more intent on realizing and living out my unique vision.
As God revealed his vision plan for my life, I sat down with pen and paper and began to write a clear vision for my life, marriage and family that focused on these major life areas (spiritual, relational, physical, mental, social, financial & professional).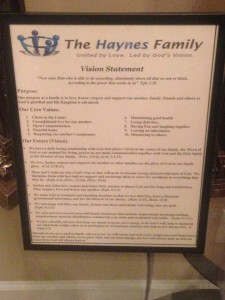 We now have a written a vision for our personal, married and family life. Our written vision statement acts as our guide to where we desire to go. We are so intent on living out our vision that we posted a framed copy of it in a prominent place in our living room. So if you come to our house you will see, 'The Haynes Family Vision'.
I have been married to my beautiful wife, Dana for over eighteen years and we have two wonderful boys, Jordan and Jalen, who will surely impact the world.
My Goal
My goal with Lead to Impact is to create insightful, inspirational and instructional content that you can put to work in your life, marriage, family and work to move your vision forward.
To develop a powerful vision that is compelling, you must be specific. When you paint a detailed vision in your mind of where you desire to go, it must contain elements that will propel you forward. A vivid and passionate vision of where you desire to be is difficult to attain if you don't have a plan to get you there. A vision plan with the five elements below will enhance the passion in you to make your vision a reality.
Know Your Purpose
Define Your Values
See Your Future
Set Your Goals
We believe you can make your a vision a reality by defining and implementing these five elements of a powerful vision. Implement them and watch your vision expand and explode.
I typically post every Tuesday and every other Friday. To make sure you don't miss my newest posts, you can subscribe to our website.
My Top Posts
If you are new to my site, you might want to start with my most popular posts. Here are my top ten posts:
You can also check out my blog post categories for a list of every post I have written or use the search function in the sidebar.

My Contact Information
If you desire to realize your vision or need the inspiration and encouragement to move your vision forward—then Lead to Impact is for you. You can contact me via e-mail or follow me on Twitter or Facebook
I Look Forward to Hearing From You!
Disclaimer
This is my personal blog website. The information I provide is on an as-is basis. I make no representations as to accuracy, completeness, suitability, or validity of any information on this blog and will not be liable for any errors, omissions, or delays in this information or any losses, injuries, or damages arising from its use.