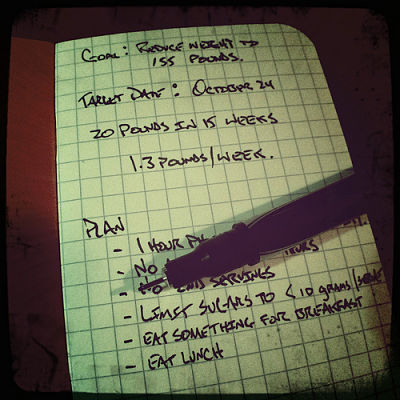 People set goals at the beginning of the year of what they want to accomplish during the course of the year. Some start out on a sincere mission to make things happen by working hard for the first couple of weeks, but fizzle out just as fast as they started.
Some press through obstacles and opposition for a month or two, but soon give up because of the distractions of life. Then you have others that don't set any goals because they failed in times past or they think it is not important.
I have heard and spoken too many people about their goals and dreams. I have heard every imaginable excuse as to why they cannot achieve them.
They say things like, 'I don't have time, I don't have enough experience, I might fail and the list goes on. Not only have I heard these excuses from others, but I have made many of them myself.
The title is contrary to my belief about goal setting. I enjoy setting goals, but I wanted to provide a different look at why people give up on goal setting.
After listening to hundreds of excuses to why people don't set goals, I compiled a list of five reasons you should stop pursuing your goals. 
It has never been done before.
It's impossible. It's unattainable. No one has ever done it. Who hasn't heard this excuse? This excuse has killed many dreams. This negative thought process will hold you hostage from achieving your desired goals. These are the kind of thoughts and inputs that we have when we are considering something that may have never been accomplished before in our lives.
I challenge you to rise above this negative thinking.  If David could defeat a giant twice his size, if Neil Armstrong could be the first man to walk on the moon, if Jackie Robinson can be the first African American to play baseball then you can do something significant. What you do may not get worldwide acclaim, but it can have a positive effect on your life and those connected to you.  
Your skills or experience is inefficient.
How often has someone shot down your dreams by telling you that, no matter how bad you want to do something, that you don't have the ability or the skills to accomplish it? Don't listen to these negative comments.
Skills can be learned. Experience is gained over time. But having the heart, passion and drive to accomplish your goals is the critical key to achieving them. Feeling that nothing can stop you and that obstacles can be overcome is more important than initially having the skills or experience to accomplish your dreams.  
You don't need to change.
Albert Einstein said "The definition of insanity is doing the same thing over and over and expecting different results".  
If you're stuck in a job where you feel there is no growth, then think about change. If you're in dead end relationships that are draining you of your energy and enthusiasm, then change who you interact with. And if your today looks like yesterday and this year looks like next year, then consider a change.
If you decide to make changes make sure that it is something you are willing to commit yourself to, live out consistently and have the courage to not give up. You must be willing to change certain things in your life to accomplish your ultimate goal.
 You think everything has to be perfect.
Is there a perfect world? No. If you believe that everything has to be perfect before you go after your goals, think again. Don't hinder your goals pursuit because you believe that everything has to be perfect. Don't squander valuable time trying to dot all the "I's and cross all the "T"s. If you fall into this trap you won't accomplish much.
Trust me, it's okay not to be perfect, because "being perfect" is not real. It's just wishful thinking. It does not exist. Okay, I forgot there have been a few perfect games in baseball and a couple undefeated women college basketball teams. Besides a few exceptions, striving for a false perfectionism can distract you from achieving your desired goals. 
 No one will support you.
Wouldn't it be great if everyone you knew gave you their full support for your efforts? I have bad news for you. It's never going to happen. Individuals who said they would support you will leave you hanging. Some will even voice negative objections because you go after your goals. Others will tell you  
Even the most successful people have had to rise above negativity, pessimism, non-support, and criticism. Never let someone else's opinion or criticism keep you from going after your dreams.  The late Steve Jobs made a statement that helped me put this in proper perspective.
"Your time is limited, so don't waste it living someone else's life. Don't be trapped by dogma – which is living with the results of other people's thinking. Don't let the noise of other's opinions drown out your own inner voice. And most importantly, have the courage to follow your heart and intuition. They somehow already know what you truly want to become. Everything else is secondary."  
The purpose of this post is to empower you to overcome five of the major reasons that many will stop chasing their dreams today, tomorrow, and in the future. I challenge you to never give up, and if you really want to accomplish something, then focus your mind, set your path, and begin.
Question: What excuses do you make that hinder you from accomplishing a goal?
photo credit: http://www.flickr.com/photos/9597476