"For this reason a man shall leave his father and his mother, and be joined to his wife; and they shall become one flesh." Genesis 2:24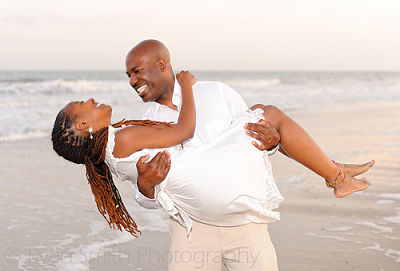 Do you and your spouse have a game plan for your marriage? Do you know what it will take to make your marriage a success?
This is a longer than usual post, but I decided to write a post celebrating marriage. In a little over two weeks, my wife and I will celebrate seventeen years of marriage. It has been a challenge at times, but a rewarding journey.
The ten strategies below are not a special formula that will automatically make your marriage successful. They will not prevent you from encountering struggles and challenges. But, if you and your spouse will make a conscious decision to implement them daily, they will help put your marriage on the right road to success. Begin the journey today and watch your marriage go to another dimension.
1. Commit to becoming one flesh. It is God's desire that you and your spouse work intently on becoming one flesh. You have different personalities. You come from different family backgrounds. You have different ideas on the way things should and could be. Your goal is to not let your differences get in the way of you becoming one flesh.
Take immediate action to create daily success habits, surround yourself with positive marriage influencers and commit daily to one another to do everything necessary to become one flesh.
2.  Develop the character of marriage. The character of marriage is what your marriage stands for when no one is looking and what your marriage represents when everyone is looking.
Don't have a window display marriage that looks good on the outside, but has no substance on the inside. When you build the character of your marriage from the inside out, it will represent God's picture of marriage when you are alone or if you are in a crowd of thousands.
3.  Start with charity (love). Charity is the action directed outwardly and inwardly towards one another. It is not selfish. It is not impatient. It is not arrogant.
The love God intends for us to display to the world is patience, caring, endurance, unconditional, truthful and active. This kind of love is only possible when we set aside our own aims, ambitions and desires and love one another God's way while expecting nothing in return.
4.  Eliminate confusion. Seek God's Word alone and together to understand your particular roles and responsibilities in your marriage. Find a mentor couple who will encourage and challenge you. Take counseling together so you can work through trouble areas or refine your relationship.
The right information, interaction and instruction will help eliminate a lot of confusion. When you and your spouse incorporate strategies to eliminate confusion, you put your marriage on the right road to success.
5.  Remain confident. Many couples allow the struggles of marriage to shake their confidence. They succumb to the belief that their marriage is doomed because of difficult circumstances. They listen to the world's commentary that their marriage can't survive through the struggles.
Please understand that God never said that marriage would be easy. He describes in Genesis 3:16-19 the struggles and challenges that marriage will encounter. The key is to learn and grow together through your struggles and remain confident that your marriage can survive.
6.  Live consistently. You and your spouse will quickly discover that living consistently to your marriage vows will bring lasting success in your marriage. The problem in marriage arises when we live inconsistent to the vows we promised to keep. We must define and understand what consistency means in marriage.
Consistency is a reliable, dependable and coherent approach to daily living that aligns your marriage with God's purpose. This daily approach is not a system of habits, but a progressive attitude in doing God's will in your marriage even when adjustments and changes must be made.

7.  Walk in courage. Courage is standing when you really want to run away, speaking the truth in the face of possible rejection, acting when you are paralyzed by insecurity, taking action in the face of fear, holding one's character and moral uprightness when your are tempted to compromise.
If you say that God put you together then you are obligated to fight for your marriage. Remember, God does not lie. Many couples give up on their marriage because they do not have the courage to take a stand. You can break the norm by taking an open stand for your marriage.
8.  Center on God's purpose. In marriage our ultimate well being depends on God and not our spouse. We cannot ultimately depend on our spouse to give us joy and peace. When our relationship with God becomes the most important relationship in our lives, only then can we find a sense of security, fulfillment and satisfaction.
We can only love one another out of the love we receive from Christ and then use that love to help meet the needs in one another's life.
9.  Focus on covenant. A covenant marriage is a relationship between a husband and a wife that is a picture of the relationship between Christ and the church. This covenant relationship is not a temporary agreement, but a permanent commitment.
When you expressed your vows to one another, you were not just regurgitating a bunch of lifeless words before a group of witnesses, but you were agreeing to a covenant before God and man that was designed to last until death do you part.  
10.  Always communicate. Communication is the inward and outward expression of your marriage purpose to one another and the world through verbal and nonverbal actions. It is the life blood of your marriage and without it, your marriage will die.
The lack of communication will rob your marriage of its position and power. It will lead you and your spouse to go through the motions instead of growing together as a formable team. Couples must find a way to effectively communicate to one another so they will fulfill their marriage purpose.
Question: What insights do you and your spouse need to incorporate to enjoy a successful marriage? Leave a comment below.
Photo Credit: http://www.flickr.com/photos/rsmith4321/5534114434/